Carlton Wine Country Vacation
3 bedroom 2 bath home in Carlton, Oregon
Walk everywhere
You won't need your car
Great food and drinks, shopping, wine tasting
17 tasting rooms are located within the city of Carlton, almost all within walking distance!  Be sure to check out these three great places for something to eat. All are within a 5 minute walk from our front door.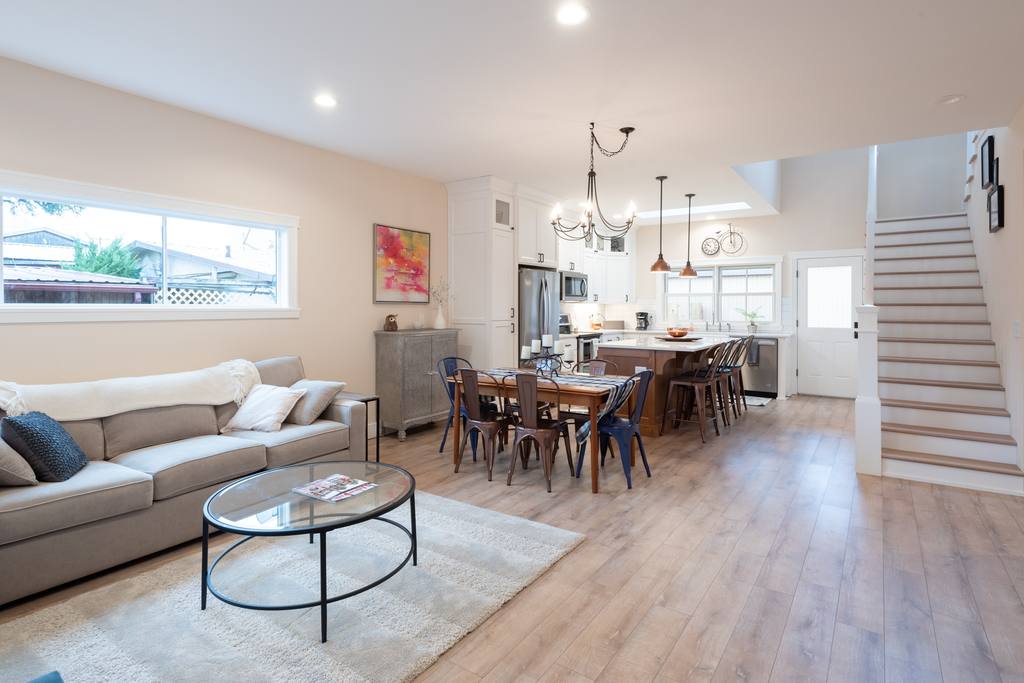 Earth & Sea
Locally sourced and sustainable food. Full bar, beer and Wine. Earth & Sea  believes in sustaining the earth & sea while also supporting our local economy.
Cuvée
Gilbert Henry, chef, and owner of Cuvée Restaurant located in Carlton, Oregon, is a native of Alsace, France. Fantastic French Cuisine and Wine
Carlton & Coast
A great bar with over 36 taps!  Micro-Brewed Beers, Wine and a wide range of Spirits as well as really good food make this a must see location while you're here.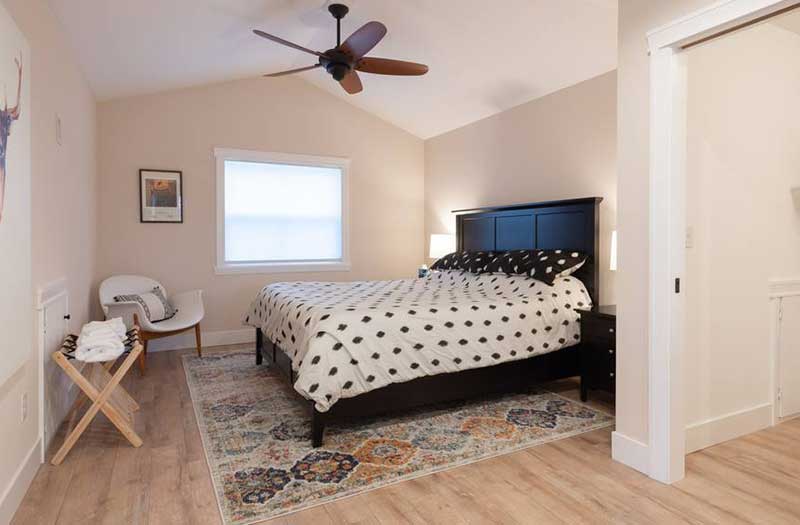 Ammenities
Built in 2018 on the site of the original 1917 farmhouse this modern 3 bedroom home has all the comforts of the city in the heart of Oregon Wine country
Master Suite – king sized bed and private bath en suite with walk in shower, dual shower heads and heated tile floor.
Two downstairs bedrooms feature super comfortable queen sized beds.
Free WiFi, Cable TV, Netflix, Full Gourmet Kitchen, fenced yard, Central AC/heat, Coffee Makers, covered parking
Our large gourmet kitchen features everything you need to prepare a full meal or just make a snack, including coffee and essentials on hand. Within a few minutes walk you can find breakfast, coffee, baked goods, or many choices of restaurants right outside the front door.
Redefining Willamette Valley Wine Country
Flâneur winery has given everyone another great reason to visit Carlton.
Years of restoration efforts have finally come to fruition as the historic Carlton grainery is now open for wine tasting and events. Originally built in the 1880's, the completely remodeled 84 foot tall antique grainery towers over the charming little town of Carlton in the heart of Oregon Wine Country. We are fortunate to have this beautiful landmark right outside our window so we and all of our guests can appreciate it as well as over 17 other tasting rooms within walking distance. Website: www.flaneurwines.com
Beautiful new home in a perfect location downtown Carlton to explore town or head out into the countryside for wine tasting, hiking or biking. Also enjoyed hanging out on the back deck for dinner and watching the dogs run around the fenced in back yard. We stayed at Ed's place for 2 weeks while waiting on our furnishings to arrive from a cross country move and couldn't have been happier. Sad to have to leave!
Patrick (Guest August 2020)
"Exactly as advertised! With COVID I was hesitant to travel, but this home was very very clean and neat. Perfectly located near town and some wineries. We would recommend and stay again in the future."
Rebequah (Guest June 2020)
"A wonderful home in a great location! An overall amazing experience."
Raquel (AirBnB guest June 2020)
"Ed's place was the perfect weekend get-away. It was exactly as pictured — beautifully appointed, super clean, spacious enough for 6, and comfortable. Great amenities and perfectly located in the heart of Carlton within easy walking distance to wine tasting, restaurants and shops. Ed was super responsive and gave us great tips on where to eat and taste some of Carlton's finest. Can't wait to visit again!"
Vanessa (AirBnB guest October 2019)
"Loved calling this home during our Willamette Valley trip. The house is BEAUTIFUL especially with all the natural light and very clean and modern. We spent both nights sipping wine on the front porch. It's short walking distance to tasting rooms and restaurants. We went to the bar down the street and had great beers and burgers. 10-20 minutes drive from great wineries. Would love to stay again!"
Michelle M. (AirBnB guest May 2019)
Our wide spread family had Thanksgiving in McMinnville. The Carlton farm house was close, convenient and very dog friendly. The tasteful decorations and furnishings were a delight. Comfortable beds and luxurious baths. Carlton is a very quaint small town with some great coffee, bakery and restaurant options . Wineries aplenty. We highly recommend and look forward to returning.
Suzanne S. (VRBO Guest Nov 2018)
"Beautiful space and great location! Highly recommend"
Ken (Air BnB Guest Dec 2018)
"Perfectly situated in downtown Carlton, this home is a very brief walk to some of the best tasting rooms Willamette Valley has to offer. The home is large, with good bedroom separation and very well appointed and comfortable!"
Paul (AirBnB Guest March 2019)
Check in, check out, cancellation, house rules, etc.
Check in is at 3pm, check out is 11am. Well behaved dogs are welcome with pet fee. No smoking or vaping is allowed in the house. WiFi is provided.
Location & Nearby Attractions
Located two blocks from Main street just next to the old Siltstone Winery in Downtown Carlton